Agenda
11 - 16 November 2019
BRNO, Czech Republic
International Trip 2019
The academic year has only just started, but we are here to plan your next vacation. Every year, an educational trip is organized the International Trip Committee, and this year we are going to… Brno! From the 11th until the 16th of November 2019, you can join us on the international trip. We will leave Utrecht on Monday the 11th at 6:30 in the morning and we should be back on Saturday around noon. The trip will be approximately €120 – €150, which includes transport, a 4-nights stay in a hotel in the city center of Brno and dinner for 2 days. You will have to provide lunch and dinner for the other days yourself.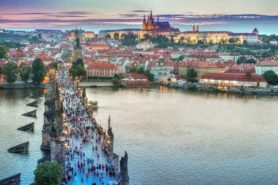 This is a great chance to meet your fellow SHA students and make some new friends. All kinds of educational, as well as "gezellige" activities will be taken care of. Moreover, the trip provides you with the necessary points to obtain the SHA certificate, so it would be wise to attend it at least once. However, the second-year CPS students are strongly advised not to join the trip this year. You can also join us for a second time, but if more than 90 students (our maximum capacity) signs up, priority is given to those who have not done the trip previously.
Do not forget that you need a valid passport or ID during the trip! You can only take 1 large bag/trolley with you, together with small hand luggage (that you need to keep with you on the bus). The journey will be long (16 hours, not completely spent in the bus though), but it will all be worth it in the end :). We will stay at Hotel Slavia, in rooms of 2 or 3 people. More information will be provided via email when you sign up (if you do not receive information within a few weeks although you signed up correctly and in time, please contact us).
The link to sign up can be found in your student mailbox. The deadline for signing up is 20 September 2019, 24:00. Do not try to sign up later, as the form will be closed and you cannot join the trip anymore. The maximum capacity is 90 students, if more people sign up, we will have to make a selection, so be quick!
We are looking forward to seeing you on our great trip to Brno!
Kind regards,
SHA International Trip Committee 2019